Charles Machine INC.
10037 Olean Trail
Summerville, PA. 15864
814.379.3706
FAX 814.379.3531
www.charlesmachine.com
© CHARLES MACHINE, INC. 2011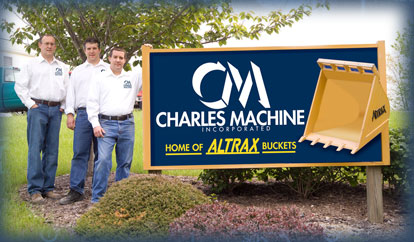 Owners: Brian, Brad & Brent Miller
At Charles Machine, we've always served Heavy Industry.

It's all we do.

Founded in 1978 after our dad, Charles Miller, retired from coal mining.
In his mid 30's and too young to "retire", (he was driving our mom nuts)
he started a machine shop - as a hobby - in a small garage where Charles
Machine stands today.

His first customers were coal operators, where he did welding repairs on
heavy equipment components. Word spread quickly among local companies
about the high quality work and responsive service dad was providing.

Plus, it didn't hurt that he was a perfectionist, obsessed with getting the
smallest details of a repair or drawing right.

Over the next 30 years, that "hobby" grew into a full service machine shop,
including a welding and fabricating facility encompassing 57,000 square
feet and serving all types of heavy industries.

Today, Charles Machine combines the best of "Hi Tech" with "Heavy
Industry", using some of the latest fabricating technology and computer
drafting that delivers consistency and precision, day after day.

Sure, Charles Machine has grown since dad's days in the garage. But his
passion for service, sweating the details, and technology know-how, has not
only been passed on to his sons, but every member of the Charles Machine
family of employees.

He'd be proud of the company he built.

We look forward to serving you.